5 Tips For Budget-Friendly DIY Wedding Decorations
Wedding expenses add up quickly, and crafty brides are increasingly looking for ways to DIY everything from the invitations to the decorations, favors and more. Many find these personal touches leave a more lasting impression than traditional options.
Are you interested in a beautiful wedding at a lower cost? When it comes to budget-friendly decorating for the big day, it's easy to find manageable projects that appeal to you and are aligned with your wedding theme. Follow these 5 simple tips to achieve your dream wedding at an affordable price.
1 – Get Your Gears Turning
The key to saving money on decorations is to think beyond flowers. That may not necessarily mean forsaking flowers altogether but rather letting flowers play a supporting role to your DIY lead. Maybe it's a giant log vase that steals the show, or oversized oak leaves. Look for inspiration online to find or refine budget-friendly ideas that appeal to you and fit the theme of your wedding. Pinterest boards are brimming with creative DIY wedding decorations and displays, many linking to blogs with step-by-step instructions that tell you just how to do it — and it's free to use! (Pinterest tip: use amplifiers when searching, like rustic, elegant, easy, creative, etc., to maximize the relevance of your results).
2 – Make A Plan
Jot down and/or sketch out ideas and estimate a timeline and associated cost for each project. Determine who you may enlist for help and how you plan on obtaining the necessary materials. It may sound simple, but mapping out your plans in detail will keep you focused on the elements of your wedding that you plan to DIY and can help ground you if your plans are too ambitious.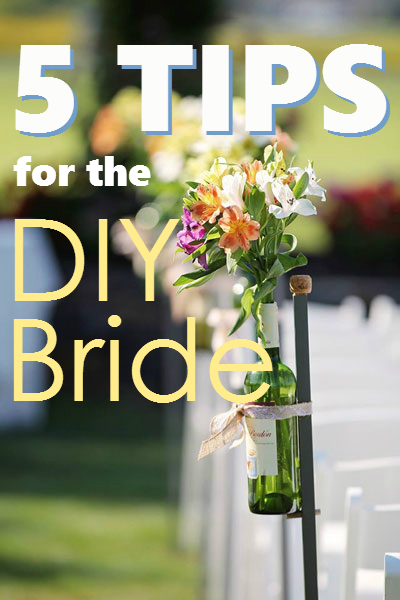 3 – Talk To Real People
The digital world is fantastic for planning, but nothing can replace the value of some good old fashioned communication with actual people. Whether it's your mom, a bride who's been through it before or a crafting queen who can give you some pointers, it's a good idea to bounce your ideas off of someone and hear their advice. You might discover new places to shop, mistakes to avoid, or any number of useful tips when you tap this resource. If your ideas require obscure materials, like vintage teapots or old paned windows, often someone knows someone who knows someone… who has just what you're looking for. It's also important to enlist the help of friends and family who can commit to helping you craft so you are not tackling it all by yourself.
4 – Do A Trial Run
If you plan on DIY decorating aisles, table centerpieces and other highly visible elements at your wedding, it's wise to do a trial run of your ideas far in advance, before investing too much time or money in gathering or prepping supplies. Do one piece from beginning to end as an example, including any flowers you plan on incorporating. You can then evaluate whether the style, size and time investment is what you were expecting, leaving room to modify your original plan if necessary.
5 – Have Fun
DIY decorations are a great way to inject your personality as a couple into your wedding theme. You will feel happy and proud to display your creations on your wedding day because they are a reflection of you. Remember to have fun as you work on these projects, dreaming of the big day and bonding with friends and family as you create. Everything's better when made with love!