How to Break Down the Wedding Budget & Improve Your Planning Process
Not sure where to start with your wedding plans? Begin with the budget. You can't make decisions without knowing how much you can spend. Once you have that magic number, you can allocate a certain percentage to each element of the wedding. Then, you know how much you can spend on what!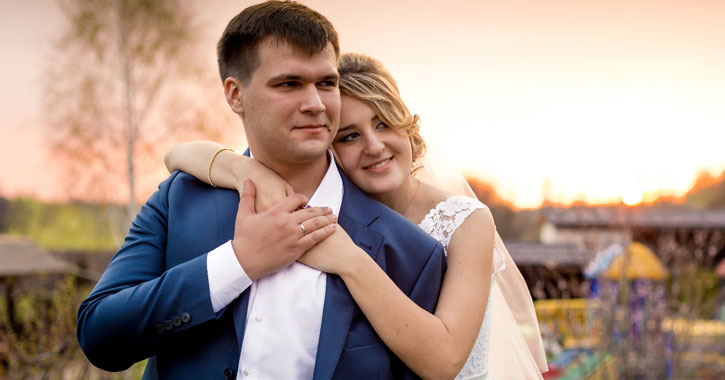 Find the Magic Number
Determine your magic number by talking to the people involved who are contributing to the wedding – usually it's each set of parents. Sometimes parents will offer to throw in a certain amount, and other times they'll specify a particular aspect of the wedding they'll pay for. This can be an awkward conversation to have with family, but it's absolutely imperative to know what you're working with so there are no surprises.
Once you have your budget, check out how it's likely going to be broken out:
Reception (site, food, drink): 42% to 50% ($12,000 to $15,000)
Photography: 8% to 10% ($2,500 to $3,000)
Flowers: 6% ($2,000 to $2,200)
Rehearsal Dinner: 6% ($1,300 to $1,500)
Wedding Rings: 5% to 8% ($1,000 to $6,000)
Dress: 5% ($1,000 to $1,5000)
Videography: 5% ($400 to $1,200)
Reception Music: 4% to 6% ($350 to $1,140)
Groom's Formalwear: 3% ($200 to $500)
Church/Chapel/Synagogue: 2% to 3% ($500 to $800)
Favors and Gifts: 2% to 3% ($100 to $200)
Hair and Makeup for Bride (and possibly Bridal Party): 2% ($100 to $400)
Invitations and Announcements: 2% ($150 to $400)
Ceremony Music: 2% ($200 to $250)
Wedding Cake: 2% ($450 to $500)
Transportation: 2% ($100 to $200)
Then, you'll have to do a little math to see the hard numbers on what you can spend where.
Let's say your parents offered to throw in $20,000. Your fiancé's parents are going to pay for the music and the photography, and they've offered to let you go all out for those two categories. So we can estimate music and photography at $4,390 and we'll round that to $4,400. Add that number to the $20,000 and you're working with a $24,400 budget. Now you know when you go to buy your wedding dress, for example, that you can't go over 5% of that magic number, or $1,220.
Suddenly, all the decision making that was so overwhelming before seems a little bit easier! As you talk to vendors, gather quotes, and decide on a wedding theme you'll have your magic number to guide you.
If You Need to Keep Costs Down
To try another scenario, let's say you're working with a limited budget of $20,000. An average wedding today costs between $25,000 and $35,000, so you'll have to see where you can cut back. Now, you can't go over $1,000 for your dress, but you find your dream wedding dress and it's $1,800. Where can you trim costs?
Flowers
Flowers are an excellent spot to keep the numbers down. There are a couple of things you can do:
You can buy flowers that are in season, or are in season all year round. Roses are a great choice – they go well with virtually all wedding themes and can hold up well in heat if you're getting married in the summer.
Peonies are a gorgeous and popular wedding flower, but they're also one of the most expensive and you risk having them wilt. Keep an open mind when it comes to flowers and ask your florist what's currently in season before you get your heart set on a particular type.
The second way to save money on flowers is to remember you don't need them everywhere. Focus on the bridal bouquets and boutonnieres if you're using them, and choose something different for centerpieces and decorations.
Trim the Guest List
You may have noticed with the budget breakout that the number one cost by far is reception site and food. Most venues or caterers charge a certain amount per person, so one of the best ways to cut costs is by cutting your guest list.
Not sure how to exclude someone? Remember that it's your wedding and you can invite who you want to invite. You're not obligated to invite your second cousin you've never met, or coworkers you're not close to.
Timing
Venues and vendors often have lower prices during the off season and off days. Most people get married on a Saturday between May and October – choose a Friday or a Sunday from November through April instead.
Sources:
The Knot: Wedding Budget 101
The Wedding Book: The Big Book for Your Big Day by Mindy Weiss with Lisbeth Levine